How to choose the right pacifier for your baby?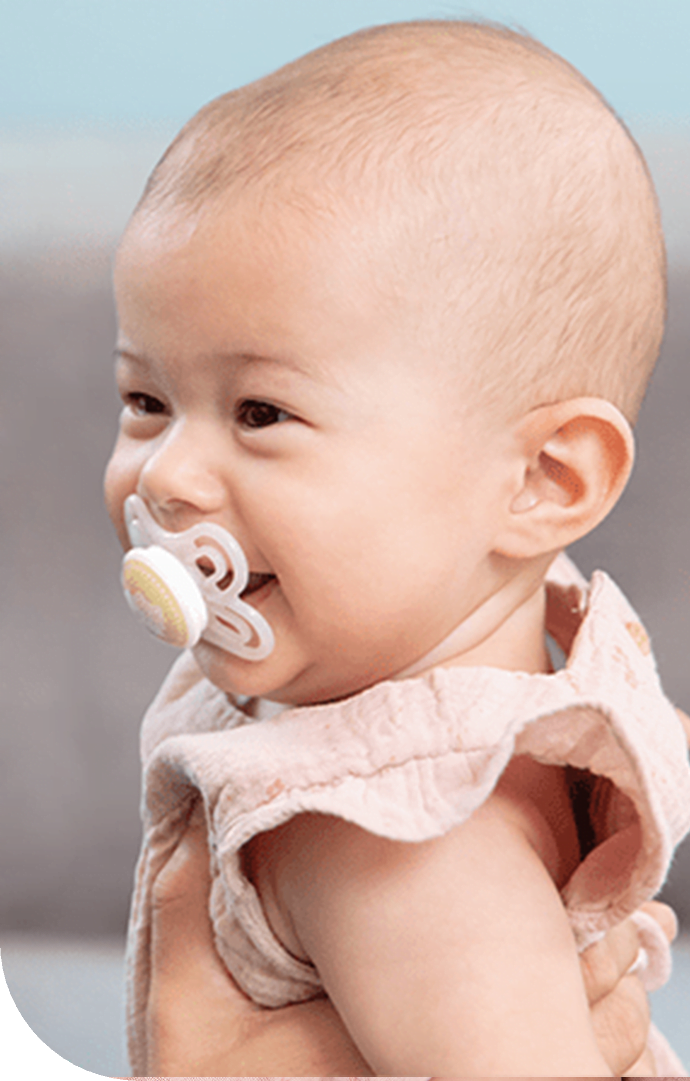 Does my baby need a pacifier?
Babies are born with a natural instinct to suck, even when they are not hungry. This is called non-nutritive sucking. From the 14th week of pregnancy, the unborn baby can be observed via ultrasound to be sucking on his/her fingers. This is known to be a natural self-soothing method which allows the baby to relax and to prepare for feeding after birth. Pacifiers help with this sucking urge and work to soothe the baby. However, not all babies will accept a pacifier and should not be compelled to do so. A pacifier can work like magic and console the baby in a matter of seconds. Here are some of the pros that we have outlined for you:
1. Encourages the baby to independently self-soothe.
2. Comforts a crying baby.
3. Reduces risk of SIDS (Sudden Infant Death Syndrome)
4. Easy to stop as it is disposable.
Now that we know and understand the need of using pacifiers, we can move on to selecting the right pacifier for our baby. There are a lot of pacifiers out there in the market so here are some guidelines on how to choose the right pacifier:
Orthodontic
Not everything that a baby sucks will relax him or is suitable for him. Other than the mother's breast, orthodontic pacifiers can not only soothe but also support a healthy oral development. Orthodontic pacifiers are designed to reduce the risk of malocclusions and support a healthy oral development. All MAM pacifiers are designed with medical experts and are therefore orthodontic.
Material which is BPA free
The type of material used to make the pacifier must be safe as it is something the baby puts in the mouth. It also must be soft like a mother's skin so there won't be any nipple confusion due to the shape & form of the teat. MAM pacifiers are shaped like a mom's breast while breastfeeding and comes with Silk Teat which is soft just like a mom's breast.
Size does matter
They are many different sizes of pacifiers available out there and choosing the right size matters. The shield & teat should be in accordance with the baby's mouth size. If it's too big, it's not a natural fit and will not be comfortable for the baby. MAM pacifiers are suitable for newborns as well as older babies.
Lightweight shield
You need to ensure that the pacifier is not too heavy as it will be difficult for the baby to hold it in the mouth. Also, the shield must have holes to allow air flow. The shield on MAM pacifiers are suitable to the babies age; tiny shields for newborns and bigger shields for the bigger babies.
All of MAM pacifiers are designed together with orthodontist and paediatric dentists to support a healthy dental and jaw development for babies. They all have curved and symmetrical shield with big air holes to ensure maximum comfort and are skin friendly. The design is perfect as it does not rest on the baby's nose and has a natural fit on the baby's face.
The 4 pacifiers range that MAM carries are Supreme, Perfect, Perfect Night and Originals. The teat used in Supreme, Perfect and Perfect Night is the same and has been clinically proven to reduce the risk of misaligned teeth. It is extra thin & extra flexible compared to a standard soother. This allows for a more natural mouth closure hence promotes healthy teeth & jaw development in your baby.
The MAM Supreme comes with large air holes in its shield making it skin friendly, therefore suitable for babies with sensitive skin.
The MAM Perfect is our global best seller that is designed to support your baby's oral development while the Perfect Night comes with a glow-in-the-dark button making it easier to spot in the dark.
The MAM Original Baby pacifier comes with an orthodontic teat and a lightweight shield. The length of the teat allows the baby's tongue to move in the mouth without stressing the teeth and jaw development. Its shield has unique curves with large air holes and dimples on the inside to make babies feel comfortable and relaxed.
MAM pacifiers are suitable for any child and will meet your every need. We designed it with love for your baby's requirement and comfort while taking into consideration healthy teeth and jaw development. Know that when you purchase MAM pacifiers, you know you are giving your precious ones the BEST!!