How to transition your baby from bottle to sippy cup?
Transitioning from baby bottle to sippy cup
As your child grows, there are many changes that take place progressively. It is a proud moment for parents to witness their little one growing and becoming more independent. One of it is that they will gradually transition from the feeding bottle to sippy cup when the time is right. This is an important but sometimes tricky milestone. You can monitor and observe if your child is ready to make this transition.
When should I introduce a sippy cup?
It is best to introduce a sippy cup to your baby as early as 4 months as this will ease the weaning process from the bottle. Some babies might accept it as soon as you make the switch, but others might not. The usual ready signs are when your baby can sit up by themselves in a highchair with good neck control, when they can sit upright unassisted for longer durations, and when they can move their head and hands independently.
It is totally normal for your child to reject the sippy cup if they aren't ready. Different kids have different growth rates. Don't be disheartened if you child is taking longer than others. You should always monitor their progress and keep offering from time to time to stimulate them. Most children fully transition to cups by 9 to 12 months.
 

How can I make the transition to a sippy cup easier for my baby?
Give them time to play and explore with an empty sippy cup to familiarise.
Be a model example whom they can see and follow. Teach them.
Take it slow and steady. Don't rush as it is a new learning process for them.
Have fun along the process. Get wet and messy!
What do I need to consider when getting a sippy cup?
1. Weight & size
The weight must be light and easy to grasp by small hands. Over time, bones become more stable and muscles strengthened. The size of the cup, especially the amount of filling, therefore, determines whether a child can hold the cup independently. Suggested fluid weights should be:
4-6 months can approximately hold 60-150 g
6-12 months can approximately hold 100-300 g
2. Spout softness
The spouts on the sippy cups should be soft and mimic mother's breast. They also stimulate and thus promote the sensitive sensory nerves on the lips and mouth which is important for baby's development. The different structures (soft, hard, smooth, rough, wet and dry) matter as it aids in language development.
3. Spout position
The spout for the first training cup should be centered (similar to a baby bottle) while spouts for older infants (like the MAM Starter Cup/ MAM Learn to Drink Cup) should be placed asymmetric. This will be more similar to drinking from a glass. These are two different tilting effects. The flow rate should also develop over time from a slow flow during early training to fast flow for more experienced drinkers. Do support your child's different developmental stages by switching from the Starter Cup (4 months +) to the Learn to Drink Cup (6 months +), followed by the Fun to Drink Cup (9 months +).
4. Cup handle
When it comes to the sippy cup handles the material, shape, structure, length, and thickness affect the comfort levels for baby. It's best to opt for handles that are non-slip, grooved with no sharp edges. A curved and flattened shape is easier to hold in comparison to handles with a squared shape. The handles should not be too long, otherwise children will find it difficult to estimate when the cup tilts.
Furthermore, the handle thickness should be appropriate to infant's age. The younger the child, the thinner the handles. From 9 months on almost thumb thick is appropriate. It is also important that the distance between the cup and the handle is sufficiently large – the child must be able to put his hand through without problems.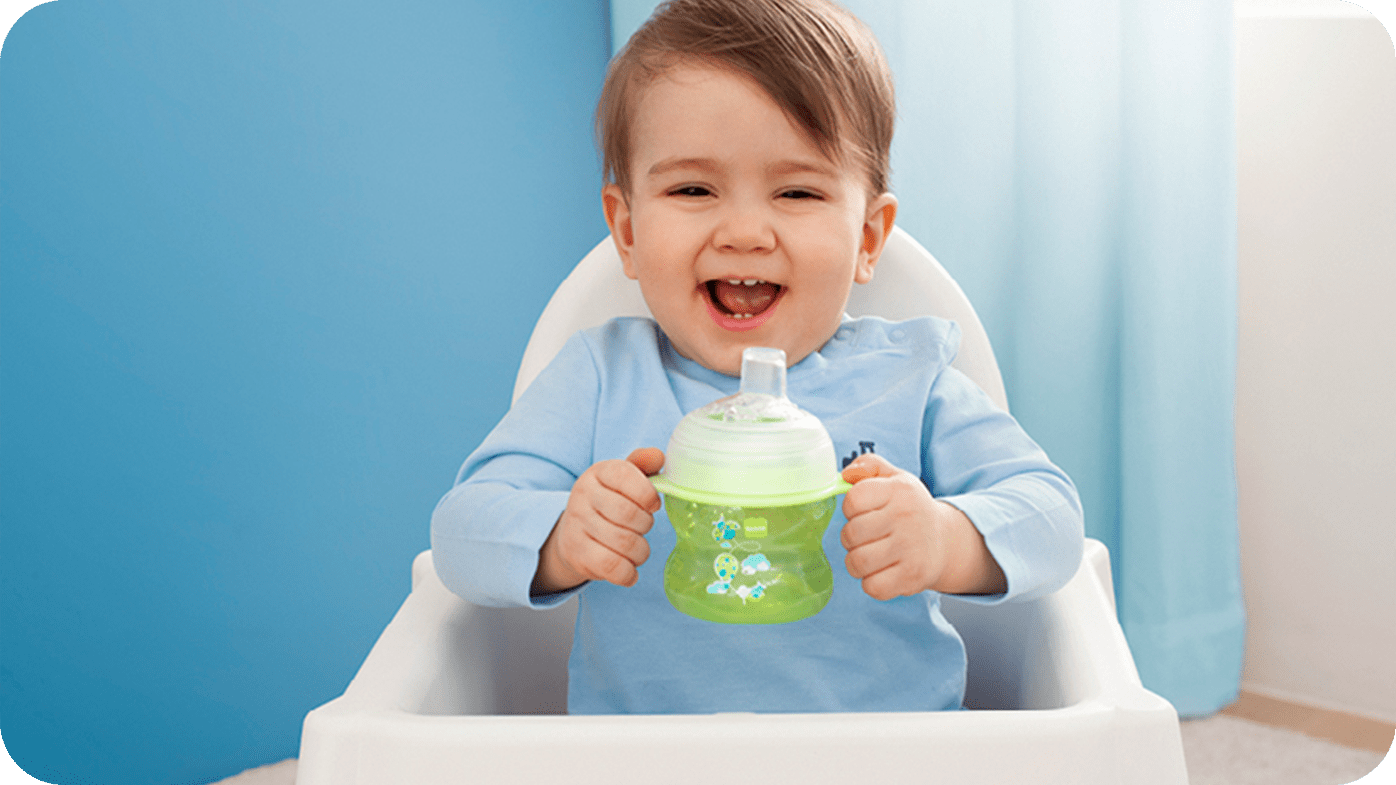 Which MAM Sippy Cup is the best for my baby?
As your kid grows, MAM cups grow too. MAM has four sippy cup options that match the individual development stage of your baby to ease the transition from bottle to sippy cup. They are inclusive of the features mentioned above and are ideal for your little ones to try. There are sippy cups that you can try and start introducing to your baby as early as 4 months if you notice the ready-signs. These cups are specifically designed for easy grip for small hands with their best interest in mind.
All MAM products are made of safe materials as they are BPA and BPS free. Plus, they come in cute, fun & colourful designs.
1. Starter Cup (4 months +)
The Starter Cup comes in a 150ml/ 5oz size. It has an extra soft spout to ease transition from bottle/ breast to cup. The spout is placed at the center, similar to a bottle to allow easy acceptance. It is also ergonomic and non-slip with a handle making it easy for small hands to hold.
2. Learn to Drink Cup (6 months +)
The Learn to Drink Cup comes in the 190ml/ 6oz size. It has an asymmetric soft spout to ease transition from bottle/ breast to cup, which simulates drinking from a glass. Plus, it's easy for small hands to hold as it comes with a handle. The valve can either be spill-free or free-flow – whatever suits the occasion.
3. Fun to Drink Cup (9 months +)
The Fun to Drink cup comes in 270ml/ 9oz size. It has an asymmetric hard spout. This is particularly important for more experienced drinkers, as it eases transition from the cup to a proper glass. It also has a valve which can switch from spill-free to free-flow.
4. Sports Cup (12 months +)
Lastly, the Sports Cup is a hygienic and independent drinking cup of 330ml/ 11oz size without push or pull. It has a special curved and tailored cup shape that makes it unique yet easy for small hands to hold. The Sports Cup also has a valve that's spill-free or free-flow.
MAM Sippy Cups are designed to support your baby's development every step of the way. With proper training and the correct cups selection along the way, your child will be fast transitioning from bottle/ breast to drinking from an actual cup!