Product development with medical experts for maximum safety.
Honoured with the European Union Product Safety Award 2019.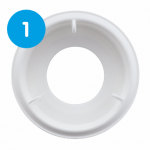 This innovative valve helps reduce colic in babies
Easy to clean and change – fits all MAM Easy Start Anti-Colic bottles range.
Includes 2 Anti-Colic Valves (replacement item for all Easy Start Anti-Colic bottles)
View and download our PDF for more instructions on how to use our products.